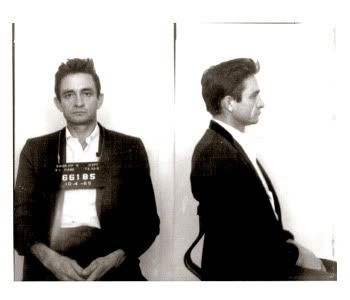 With the UK election looming it seems only fair to write about some (tangentially) political music. i assumed this 1965 Johnny Cash song was probably written by Shel Silverstein (responsible for the "A Boy Named Sue" lyrics) but it's in fact by a songwriter and producer at Sun Studios named "Cowboy" Jack Clement, who also discovered Jerry Lee Lewis. "The One on the Right Is on the Left" is one of those songs that comes across both jokey and tough at the same time.
It's an account of a "pickin', singin' folk group" and their eventual break up over "political incompatibility". The wry humour suggests that Clement might have based the song on his own experiences playing steel guitar in a local group in the 50s. My favourite bit, apart from the wordplay, is probably the way Johnny, as the inept drummer confronted with his bandmates beating the piss out of each other on stage in front of him, resignedly intones "oh dear!"
Fortunately none of my groups have broken up for political reasons (yet). Though it'd probably beat "going on indefinite hiatus" because of "musical differences".
mp3
: Johnny Cash – "
The One on the Left Is on the Righ
t
"