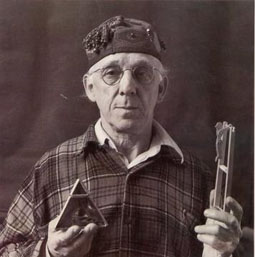 Ivor Cutler
never fails to cheer me up.
On "A Barrel of Nails", the late lamented master puts a very tongue-in-cheek spin on the tropes of the traditional folk song, the humour derived from the odd treatment of the imagery ("when a barrel of nails kept a body warm") as well as the insistent repetition of the melody. i get the impression that if you ever saw him perform him this, you'd have cracked up, and then he'd probably have fixed you with a stern, disapproving glare that would have been just as deadpan as the song itself. Such is the sense of mischief Ivor's songs give off.
At the same time, there's the hint of a real sadness in the song. The pretty dark image of the old man, his partner dead, committing surreal hara-kiri by swallowing up his barrel of nails is reminiscent of
a story Utah Phillips tells
1
on the album
The Past Didn't Go Anywhere
, about his time in the Korean War and how, on the birth of the first child into a family, the male elder would go and sit on the bank of the Imjin river with a jug of water and wait to die, whereupon he would roll down the bank and be carried out to sea. The fact that Ivor's body "will drop like a barrel of nails" completes a similar cycle.
mp3
: Ivor Cutler – "
A Barrel of Nails
" (
YSI
)
1
Scroll to the third text block (divisions marked out by a single asterisk) or text search "Imjin".